Shaving and waxing may seem less of a chore in winter (hello hairy legs!) but pretty soon the sun will be peeping it's head out and so will your legs and underarms!
Permanently removing unwanted body hair is a very popular treatment, and it makes good sense financially too – with the cost of razor blades and waxes mounting up to a hefty spend over the years!
But mostly, people have this treatment due to the convenience of being able to get up and go each day, no shaving, no last-minute realisation that your armpits look like you've had Tina Turner in a head-lock ten minutes before you're due to leave for work! And holidays…. who can be bothered having to shave their bikini line every day before heading to the pool. Ingrowing hairs, redness, soreness, EURGH.
And who hasn't experienced the drag of travelling on a short break with hand luggage only, before having to rush around the airport to buy a razor because you weren't allowed it in your cabin bag?
I'm interested… how does IPL hair removal work?
IPL is an effective method of treatment that uses intense pulse light to essentially 'kill off' the hair follicles preventing them from regrowing.
The results vary from person to person, but most people will see around 80-90% hair reduction after 6 sessions.
The results are most effective on those with pale skin and dark hair, as this allows the light to focus in on the melanin in the hair.
How much does it cost?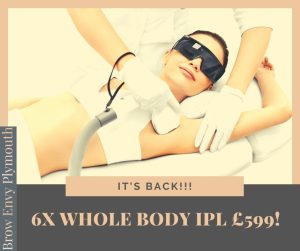 We have an incredible offer at the moment – whole body hair removal for £599!
This offer was very popular when we ran it last year and now it's back for a limited time only – the total cost of this package to purchase each area separately would be a whopping £2820!
To redeem this offer please contact us to make an appointment, Your first appointment must be scheduled by 1st April to secure this offer, and payment must be made in full at your first appointment (we accept all debit and credit cards)