Combat cellulite and improve muscle tone
Ionithermie Cellulite Treatment in Plymouth

Ionithermie is the perfect treatment to combat cellulite and improve muscle tone. This treatment uses two different electrical impulses, a mix of algae and clay and a cocktail of highly active products massaged into the treatment area to make Ionithermie one of the most effective yet relaxing experiences offered to you in the salon. Suitable for both men and women the treatments include an invigorating body scrub as well as a back and scalp massage, a truly relaxing experience with visible results.
Reduces the appearance of cellulite
Improves and smoothes the skin texture
Slims the body with potential inch loss of 1 – 8 inches on the very first treatment
Firms and tones the muscles, lifting slackened areas and flattening the abdomen
Detoxifies and re–mineralizes the body, raising the bodies energy levels & metabolism
Trim and tone the following areas:
Ionithermie Tummy Trim
Ionithermie Hip and Thigh Sculpture
Ionithermie Cheek Lift
Ionithermie Upper Arms Toned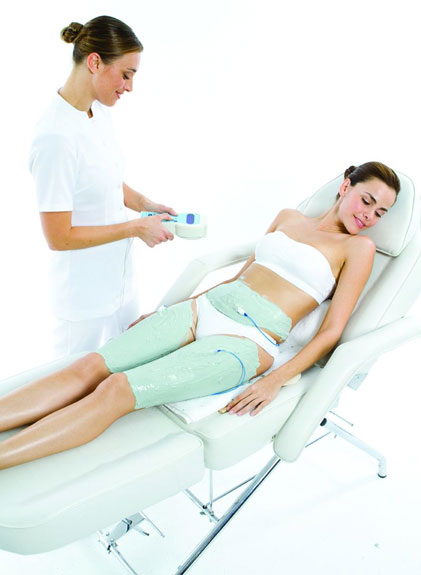 Ionithermie Body Toning
One treatment of Ionithermie produces dramatic results. However, a more permanent result is achieved with a course of treatments. Ionithermie is an ideal addition to boost any weight loss programme.
Aids in detoxification and remineralises the body's internal system, as well as boosting the metabolism. Algae contain natural trace elements and minerals that are essential for cellular function; when algae are combined with heat, detoxification results.
Conductive Thermal Aroma Clay
Is Ionithermie's heat and current–conducting clay masque which transmits the galvanic and faradic stimuli over an entire area. It also creates warmth and relaxation. Cypress and Pine essential oils are mixed into the clay. These oils increase circulation, act as a natural diuretic, balance the hormones and are emotionally uplifting.
Has been used in beauty treatments for decades. It uses negative and positive ions to propel active, specialised topical preparations into the deeper layers of the skin – far deeper than we can effect through normal topical application, massage or by applying heat. Galvanic stimulation is one of the few ways to stimulate lymphatic circulation, which is the body's built–in cellular waste disposal system. As we age, our lymph becomes sluggish and our body is far less able to rid itself of toxins.
Is used by medical physiotherapists and chiropractors to help restore weak or injured tissue. It stimulates our muscle tissue and acts like a pump on the circulatory system. Faradic stimulation is also popular for spot figure slimming
Testimonials
★★★★★
"I can't recommend this place enough. As someone who is very nervous about going into salons, I find this one so welcoming and fantastic at putting you at ease. All the ladies are so friendly and highly qualified. They go above and beyond and I wouldn't go anywhere else! I drive nearly a 40 mile round trip to specifically come here. Thank you Brow Envy!"
Lesley-Ann Knight