Brazilian, Hollywood & Bikini Line Waxing Treatment

Welcome to our Plymouth beauty salon, where waxing is refined to an art. Specialising in everything from a neat bikini line to a comprehensive Brazilian wax, we cater to all your hair removal needs with professionalism and care. Whether it's your first time or you're a waxing aficionado, our friendly team is here to provide a comfortable experience with results you'll love.
Pop into our salon for a touch of personal pampering—where quality waxing services meet the convenience of your local beauty experts. It's all about you and your preferences; whether you opt for the full Brazilian, a discreet French wax, or the bold Hollywood style, we're here to help you feel your best.
This page is under review and will be finalised in due course.
Types Of Intimate Wax Treatment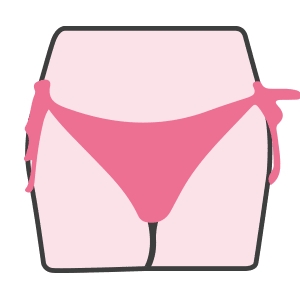 Bikini Line Wax
A bikini line wax treatment is a popular hair removal method that targets the area along the edges of a bikini bottom. This service focuses on removing the hair that might peek out from around your swimsuit or underwear, ensuring a neat and tidy appearance. We'll apply warm wax to the desired areas, followed by using cloth strips or a direct removal technique to swiftly pull the hair out from the root. It's a quick and efficient way to maintain a clean look, with results that typically last much longer than shaving.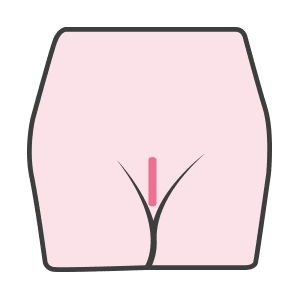 Full Brazilian Wax
A full Brazilian wax removes all hair from the pubic region, front to back. This comprehensive treatment offers a completely bare look apart from a small strip or shape on the front. Unlike a bikini line wax, which only targets the sides, a Brazilian wax encompasses the entire area, providing a smooth and clean result all over. The process involves careful application of wax, ensuring even the most sensitive spots are treated with precision and attention.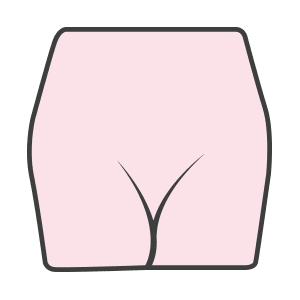 Hollywood Wax
A Hollywood wax is the ultimate hair removal option that goes a step further than a Brazilian by leaving not a single hair behind. It's an all-off approach, from the front, through to the back, including those hard-to-reach areas. Perfect for those seeking a completely smooth look, this type of wax is thorough and meticulous, offering a sense of complete cleanliness. For many, a Hollywood wax is a preferred choice for its sleek and liberating feel, and it's especially favoured during swimsuit season or for a seamless look under form-fitting outfits.
Bum Wax
A full bum wax is a hair removal service designed to clear away all hair from the buttocks region. It's an inclusive treatment suited for both men and women who desire a clean and smooth appearance from behind. The procedure targets not just the cheeks but also the more sensitive areas along the inner regions if the client wishes. Carried out with discretion and respect for privacy, the full bum wax is efficient and thorough, providing a polished finish. The result is a sleek feel, offering a boost of confidence in all types of clothing and situations.
Frequently Asked Questions
How should you prepare for your wax treatment?
Preparing for your wax, whether it's a Hollywood, Brazilian, or bikini, involves a few simple steps to ensure the best results and comfort. Aim to exfoliate the area gently 24-48 hours before your appointment to remove dead skin cells and help prevent ingrown hairs. Keep the skin moisturised leading up to your wax but skip the lotion on the day of to help the wax adhere better. Hair should be at least a quarter-inch long so the wax can grip it effectively, which typically means refraining from shaving for around three weeks prior to your treatment. Lastly, wear loose clothing to your appointment to avoid irritation afterwards.
Does a waxing treatment hurt?
The sensation of a waxing treatment can differ from person to person. While it's not entirely without discomfort, most find it to be quick and manageable, with the anticipation often worse than the actual treatment. The initial sessions may be slightly more uncomfortable, but as you continue with regular waxing, the discomfort typically lessens over time. The skin and hair follicle become accustomed to the process, and hair tends to grow back finer and sparser.
How long does hair take to grow back after a wax?
The timeline for hair regrowth post-wax can be as individual as you are, often ranging from 3 to 6 weeks before you'll notice regrowth. It's not unusual to see a slight variation in this as your hair cycles align with regular waxing sessions. Each experience tends to result in a smoother finish that lasts longer, with hairs often coming in softer and less coarse. Our team will work with you to determine the perfect rebooking interval to maintain that sleek, carefree feel.
What's the difference between a Brazilian and Hollywood wax?
A Brazilian wax and a Hollywood wax are both thorough hair removal treatments, but they differ slightly in the area of coverage. A Brazilian wax removes almost all the hair from the front to the back, leaving a strip or a small triangle of hair at the front for those who prefer some coverage. It's the go-to for a clean look while still maintaining a bit of natural presence.
On the flip side, a Hollywood wax takes it a step further by removing all the hair from the front, back, and everything in between, leaving you completely bare and as smooth as silk from hip to hip. It's the ultimate choice for those seeking a completely hair-free finish.
How long does a wax treatment take?
The duration of a wax treatment can vary depending on the type of wax you choose and the thickness of your hair. Generally, smaller areas like a bikini or underarm wax can take around 15 to 30 minutes. For more extensive treatments such as a Brazilian or Hollywood wax, you might be with us for about 30 to 45 minutes.
Which parts of your body can be waxed?
You can get a wax treatment on virtually any part of your body where unwanted hair grows. Popular areas include the legs, arms, underarms, bikini line, Brazilian or Hollywood wax for intimate areas, back, chest, and even face – encompassing eyebrows, upper lip, and chin. Our salon provides a comprehensive range of waxing services tailored to your individual needs. Whether it's shaping perfect brows, achieving smooth legs, or anything in between, our experienced therapists are equipped to handle it all with the utmost care and professionalism
★★★★★
"She was extremely professional, and made an experience that could have been very embarrassing and painful, actually really fun and relaxing! It's so strange to think an intimate wax could create such a huge confidence boost. The Gin that I was given after also was extremely welcome!"
Tracie Matthews
Verified Review
★★★★★
"I took my daughter here yesterday for her first ever eyebrow wax. I have to say how happy we were with every single element of our appointment. The ladies at Brow Envy were fantastic, professional and so welcoming that I can assure you we will be returning customers."
Lisa Saunders
Verified Review