Permanent IPL Hair Removal in the heart of Plymouth
IPL Laser Hair Removal in Plymouth

Are you tired of waxing, bleaching or shaving?
Our state of the art IPL hair removal machine removes unwanted body hair permanently. The treatment is painless and most people require six sessions to achieve 80-90% hair reduction.
Prices start from £30 per session, but if you checkout our Facebook page you may be lucky and find we are running a special offer!
What should I consider when looking at IPL Hair Removal?
Treatments are carried out 6-7 weeks apart, and it's better than you are untanned at the time of treatment. Therefore, immediately after returning off a holiday isn't the best time to begin! You will see a noticeable difference after 2-3 treatments.
Our latest blog article provides more detail on this populat treatment HERE 
For advice on IPL Hair Removal Removal please Contact Us.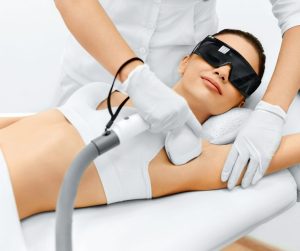 A patch test and consultation is required before treatment.
Absolutely not! Check out our Facebook videos on Facebook to see how pain-free the treatment is!
The most successful candidates for IPL Hair removal are those with light skin and dark hair, which allows the laser to easily 'find' the hair follicle and kill off regrowth at the root
Testimonials
★★★★★
"Really friendly and welcoming. Perfect service. Very impressed!"
Collette Thornton